Sylvain Cheff Construction is a local family company that has been in business since 1996. Specializing in agricultural construction, we build farms, hen houses and hog barn, amongst other things. We have expertise in the field of agricultural construction, but also commercial construction, which makes us an entrepreneur of choice for the realization of your projects. We have the team and the expertise to successfully execute and complete your projects regardless of their size. Our team is innovative, experienced and quality-driven. We are known for our attention to detail and for the quality of the end product we deliver to our customers. We seek to carry out the projects given to us, to the customer's taste, with style and originality, while having in mind the practical and functional side. Above all, we want to make our customers' lives as easy as possible.
At Sylvain Cheff Construction, we seek to innovate and offer ever more diversity of products and building methods to our customers. Whether it's in the use of a new product, the application of a new technique, or even in the addition of the construction of new types of buildings, our team innovates regularly to help you carry out your project according to your tastes and your budget. Over the years, we have developed a style that is our own, while keeping at heart the attention we pay to detail. We are continually looking to improve our way of doing things in order for our client to be satisfied with the work done and proud of his project.
We are by your side from start to finish. We provide our services through the delivery methods that best meet the needs of our customers. Whether you are looking for a general contractor, a design and build contractor, or simply a construction contractor, we listen to your needs and seek to support you to the best of our knowledge.
Our team of experts will be more than happy to assist you in the making of your project.
For any questions regarding your future projects or for a free estimate, don't hesitate to give us a call !
Carrying out your project with our team means:
Supporting local entrepreneurs
Having access to a team of experts
High quality standards
Attention to detail
Quality materials
A team attentive to your needs
The realization of your dream project.
Creation of the company Sylvain Cheff Construction. Sylvain and Nathalie Cheff decide to go into business and fill a growing need in the construction industry, namely the need to have a contractor in the region who specializes in the construction of farm buildings. From this moment, Sylvain seeks to offer a quality product which stands out and which has as primary objective to facilitate the everyday life of the farmers.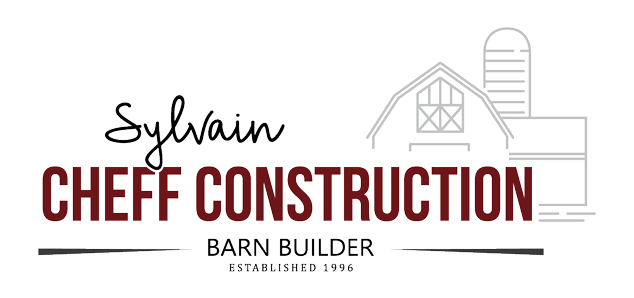 Our company celebrates 10 years of existence.
The kids are starting to join the team.
Realization of our first henhouse: Grenier & Frères (1987) Inc.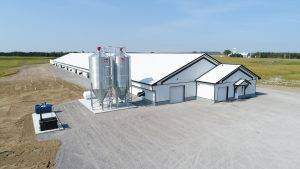 We are now a member of the CFBA. (Canadian Farm Builder Association)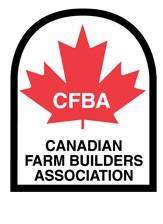 Sylvain Cheff Construction receives the "Builder of the year" award in the "Dairy Facility" category. This award is handed by the Canadian Farm Builder Association.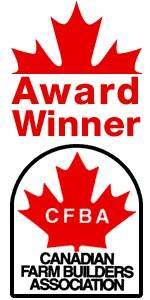 Community involvement: we redid the steps of the Church in Bourget
We partner with the Butler Manufacturing Company and become a "Butler Builder" for them.

We are awarded the "Million Dollar Builder" Award for having sold over 1 million $ in Butler structure throughout the year.
Our company celebrates 20 years in business.
Sylvain Cheff Construction receives once more the "Million Dollar Builder" Award for having sold over 1 million $ in Butler structures throughout the year.
Community involvement : we completed the installation of the mural at the corner of Champlain street and Laval street in Bourget.
Realization of our first hog barn: F & H Haerle Farms Inc.
Coming soon. We will be celebrating our 25th anniversary !!